What makes a Jose Cardenas Home different?
The difference is the art.
Jose Cardenas was the Arts Integration Manager and social studies coordinator for his campus at the Houston Independent School district where he worked as a bilingual educator for 7 years.  Earned his Bachelor of Science in International Marketing from Madero University a Methodist college in Puebla Mexico. He was trained by the Houston Museum of Fine Arts to teach the program "Learning through Art". Jose has been Inspired to promote art among the community by art galleries he visited such as the Peggy Guggenheim collection in Venice Italy, the Louvre museum in Paris, the Ringling Museum in Sarasota, Florida among others in London, Bali, Hong Kong, St. Petersburg Russia and Istanbul.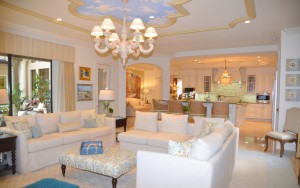 The arts have been a part of his personal and professional development; an artist of the performing arts himself for over 20 years as a dancer of traditional Mexican folklore, growing up in a family of musicians. He was part of the oil painting class at the LDS boarding high school he attended. Jose defines himself as an art collector of life stories, dreams and inspiration hanging from his walls. Mr. Cardenas attributes his professional success to the influence of art in the day to day running of his business Jose Cardenas Homes as a Home Designer, Renovator, Investor and a Realtor with Berkshire Hathaway Homes Services Florida Properties Group. His Hobbies are running 5K events, traditional folklore dance, art galleries, Design, renovations and piano.
We design and renovate homes to help you enjoy life the way you dream about it. We look at challenges from a different perspective  to find a unique solution that will allow you to build a life time of memories in your new home.  One home at a time.
"I love to travel and learn about people's lifestyles, the way they enjoy their home and how they entertain their family and friends.  I'm always listening about families and their daily routines, what they like about their homes, what would be their dream rooms or home features. We all have different definitions of what a dream house can be.
I base my renovations and design on how you want to enjoy your home, the purpose of living spaces, better ways to keep a neat and organized home and what you would like to feel when entering a room. The home is our sanctuary and should be treated as such. But it's more than just aesthetics. Because of my home investor and renovation background I understand how to add value so you can maximize on your investment."